Get RedWolfReport FREE until Fall Camp!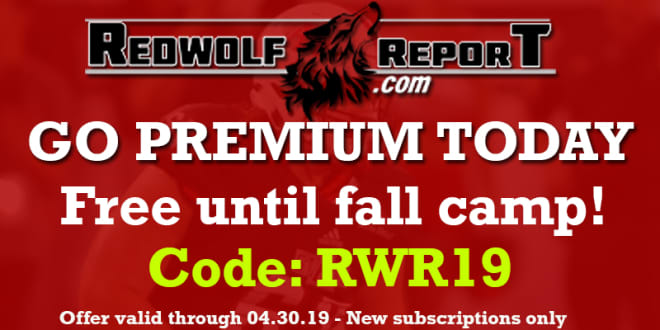 Spring football is right around the corner, baseball season is in full swing, NFL pro day is quickly approaching, and RedWolfReport.com will have all of your A-State Red Wolves news, recruiting, and more along the way.
To access the content from our staff you must be a RedWolfReport.com premium subscriber, and today we are offering a deal to help out anyone who would like to give the website a trial run for FREE.
Sign up today and get access to RedWolfReport.com at no charge until fall camp begins!
THIS IS THE BEST PROMO DEAL WE HAVE EVER OFFERED. TAKE ADVANTAGE TODAY!
To get signed up today, CLICK HERE. Use promo code RWR19 at check out.
To download our mobile app, CLICK HERE.
For members with free usernames who want to upgrade to premium: You can take advantage of this deal as well. Log into your account and CLICK HERE. Use promo code RWR19 at check out.
For current subscribers: Refer a friend and earn 90 days FREE at the end of your current subscription. Have your friend email LDMatheson@Gmail.com with their username in addition to your username once they are signed up, and 90 FREE days will be added to your current subscription!
NOTE: This promotion ends April 30, 2019 at 11:59 PM.
RECENT REDWOLFREPORT.COM ARTICLES
REDWOLFREPORT.COM BUSINESS PARTNERS