Transfer wide receivers provide talent for Arkansas State
CLICK HERE TO GET ACCESS TO REDWOLFREPORT.COM FREE FOR 60 DAYS!!!
Arkansas State has plenty of familiar faces on the football field this season, but a trio of new ones in the receiving core seem to stand out. Three new transfers, and one with a year under his belt, will look to make a significant impact on the Red Wolf offense this year.
Sometimes the first decision is not the correct or final decision. For some, it is just a stepping stone. For others, it is a step in the wrong direction that drives them to the place they were meant to be from the start. For this group of guys, it's everything in-between.
Meet the four Red Wolf receivers that didn't originally call Jonesboro home, but still wound up in the right place.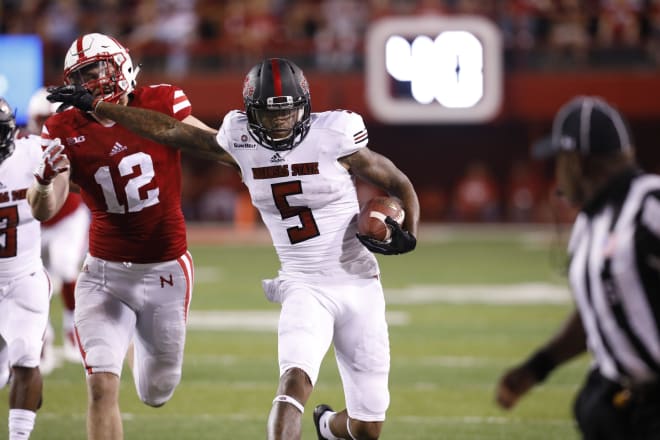 Kendrick Edwards
Edwards is the veteran of the transfers. He is the only player on this list to spend last season in Scarlett and Black. In his first season at A-State, he racked up 255 yards and 2 TDs on 25 receptions.

His journey started at the University of Arkansas, where he saw only eight receptions over two seasons for 121 yards and a lone touchdown. From there, Edwards decided it was time for a change.
"I knew Coach Early from Arkansas. We just clicked. Coming to Arkansas State felt like my only option," Edwards said.
Though many would think the road from an SEC school to a Sun Belt program may be a total culture shock, quite the opposite seems to be the case.
"There's not necessarily a difference (from the SEC to the Sun Belt). The competition level is different, but it's pretty much the same."
Why would a player make a switch from a Power 5 program to a Group of 5 school? For Edwards, the answer was simple.
"My purpose in coming to A-State was to win. That's it."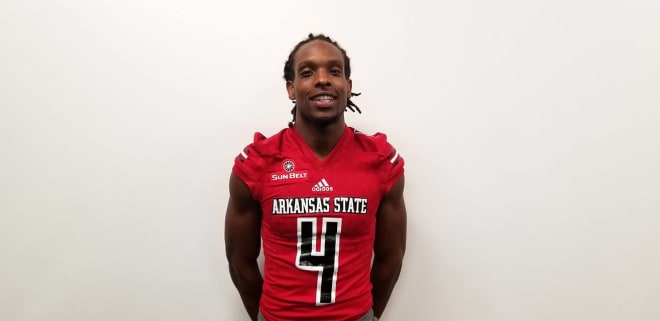 Dahu Green
Get used to hearing the name Dahu Green.

Originally from Oklahoma City, Green started his career at Oklahoma, where he accumulated 89 yards on three receptions in his two seasons. Expect those numbers to go up if the Fall scrimmage is any indicator, as Green led all receivers with three catches for 92 yards.
"Out of high school Coach A contacted me. I knew a little about the offense, knew they passed a lot. When I was thinking about transferring, Coach A contacted me again. I loved his energy. I felt like coming here would be a great idea," Green said.
When it comes to high expectations, Green doesn't hold back. His confidence is overflowing.
"My expectation for myself is to make the play my team needs me to make. For this offense, my expectation is to put up 45 points against every team, honestly. If we do the little things right, I don't believe teams can stop us."
When thinking about differences between Power 5 and Group of 5 teams, most may cite the size of the fanbase, the facilities, or the history. For Green, the biggest difference lies somewhere else.
"If there's a team that's closer knit than these guys here, I'd be surprised. That's one big difference honestly. At the P5 schools, you've got those 5-star guys with different personalities and big heads. Here we've got JUCO transfers and bounce backs and everyone here is trying to get out of the mud. That's the difference you see."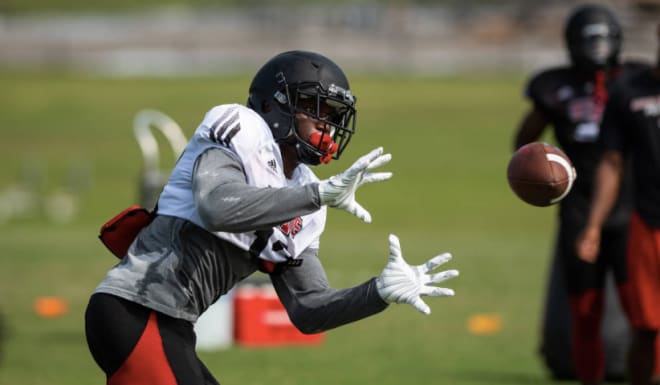 Kirk Merritt
Kirk Merritt started his collegiate journey at Oregon and then went through JUCO before eventually ending up at A-State.

"It was a humbling experience coming through JUCO. You have to work to get back up," Merritt said. "At the end of the recruiting process, Coach A called me at the last minute and I changed my mind on all those other schools."
Merritt noted that A-State felt special and that it was obvious that it was the place for him.
Changing teams multiple times through different levels of competition has not hindered Merritt's competitive spirit in the slightest.
"There's not really a big difference (at different levels). It's all competition. It's all football."
What will set A-State apart from the competition this season? According to Merritt, it's a group effort.
"We have so many weapons. Outside, inside, running back, defensive line. We have so many weapons. That's the key."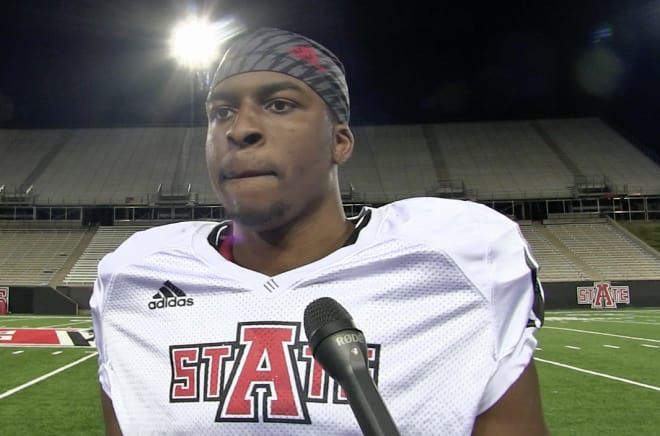 Bubba Ogbebor
The man with possibly the coolest name on the roster, Bubba Ogbebor started his career journey at Boise State.

"At first (when I decided to transfer) I didn't know where I was going to go. Then Coach Anderson called me, and as soon as he did, I wanted to come here. That connection was there," said Ogbebor.
The humid forests of Arkansas are quite a bit different than the freezing fields of Idaho, or so Ogebor claims.
"It's a lot warmer here. Temperature wise and in the locker room. Everyone here is friendly. The coaching staff is amazing. It's truly a family atmosphere here."
How high should Red Wolf fans set the bar this season? If you fall in line with Ogbebor, you better get ready for the greatest run Jonesboro has ever seen.
"(My expectation is to go) undefeated. I don't care about personal goals, I just want the team to prosper. Everybody is explosive. Everybody can get the ball and score at any time and I'm glad to be a part of that"
...
Whether by chance, destiny, or a wild twist of fate, Red Wolf fans will be blessed to watch these young men compete for their university this season. It isn't about how you start, it's about how you finish.
REDWOLFREPORT.COM BUSINESS PARTNERS