Non-conference road success is critical for the Red Wolves
CLICK HERE TO GET ACCESS TO REDWOLFREPORT.COM FREE FOR 60 DAYS!!!
Arkansas State has not fared well against non-conference opponents since donning their new moniker in 2008. The Red Wolves have a chance to change that trend on Saturday.
Since becoming the Red Wolves a decade ago, A-State has posted an abysmal 16-33 record against non-conference opponents, including FCS teams and bowl games. Of those 16 wins, only one has come in a true road game.
That was the first game the Red Wolves ever played.
In 2008, A-State shocked the world when they traveled to Kyle Field and upset the Aggies of Texas A&M. Since then, the Red Wolves are 0-23 in true road games against out-of-conference foes.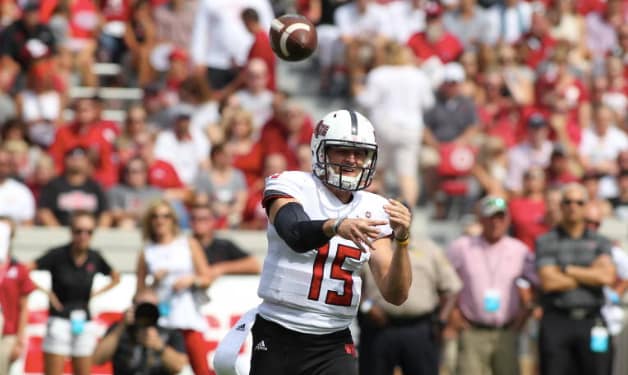 Losses on the road against Power 5 competition is expected to some degree, reflected by a 1-17 record in such games over the past 10 seasons, but the losses against fellow Group of 5 competition are what sting a little extra. Over that span, A-State is 6-12 against G5 teams outside of the Sun Belt overall, with three of such wins (and four losses) coming in postseason games.
"We've had postseason success (against G5 competition) but we haven't quite put together the regular season non-conference (resume) that we want. We have a chance to do that this year. For what we want to do nationally and recruiting wise, these games are very important. (In the past) we weren't quite ready to win in those environments, whether due to injury or inexperience, but I think this team can get it done," said Head Coach Blake Anderson.
Tulsa will present a unique matchup, as the Red Wolves seek their first non-conference road win since 2008. Both teams run very similar offenses, but the Tulsa defense is one of the more unique units in all of college football.
"They run a system very similar to ours offensively. They're going to spread you out, put a lot of guys in space. Luckily our defense sees it every day, or at least a version of it. Hopefully, they can draw from that," Anderson said. "Defensively we're going to see something completely unique. What they've chosen to do defensively is very different than what we've seen from our defense and from anyone we've seen up to this point. It will be a challenge to figure out how to attack it."
What is so different about the Tulsa defense?
"They've gone to a version of defense that several teams have gone to. They've got the ability to play some conventional four-down quarters type looks, but they've gone to a three-down, five-deep, very disguise-oriented, all eyes in the backfield type defense. Iowa State ran it last year against Oklahoma and Oklahoma State and had a lot of success. (Tulsa) played it almost exclusively last week against Texas, but it's not at all what they did a year ago. They played it about half the game against UCA. It's just not what we've seen, so it will be unique for us."
Of course, one road win would not automatically turn the Red Wolves into "road warriors" all of a sudden, but it could serve as a crucial turning point in the history of the program. The team has reiterated several times that their goals are set high. They want to win the Sun Belt Conference Championship and represent the G5 in a New Year's Six Bowl. Earning a bid that prestigious does not come easy.
Teams such as Boise State and UCF have earned their spots atop the G5 thanks to a combination of dominating their conferences (A-State is 57-21 against Sun Belt teams since 2008), but also winning outside of them. For A-State to assert themselves into that conversation, whether this season or in the future, it all starts with Tulsa.
"It's a matchup. It's a call-it type game. We expect that everybody on our schedule from this point forward is going to be good enough to beat and good enough to beat us. We disguised mistakes against SEMO because we were better and had mistakes exposed (against Alabama) because they were physically better. We're back to head-to-head, toe-to-toe football against teams that will look a lot like us. We've gotta play better ball and we have to play clean ball," Anderson said.
A-State has been "Building a Monster" for five years now. This game could serve as one of the most important pieces of that project, and could ultimately help determine whether or not that monster is built.
"Tulsa will be a tremendous test."
CLICK HERE TO GET ACCESS TO REDWOLFREPORT.COM FREE FOR 60 DAYS!!!
REDWOLFREPORT.COM BUSINESS PARTNERS