Arkansas State signs the top recruiting class in the Sun Belt Conference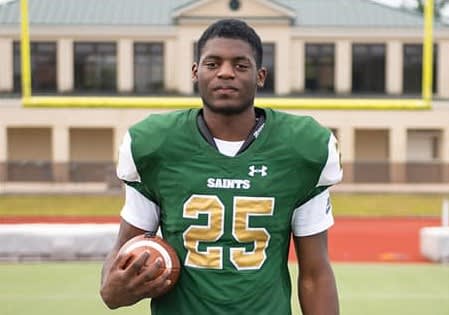 Arkansas State Head Football Coach Butch Jones announced Wednesday that the Red Wolves have added 18 players from 11 different states to its 2022 recruiting class, which is currently ranked top in the Sun Belt Conference by Rivals.
The Red Wolves' additions on Early National Signing Day included 14 high school players and four FBS transfers, including 10 expected to play on the defensive side of the ball, seven on offense and one listed as an athlete.
"I'm extremely proud of this recruiting class," said Jones. "When you look at it, I think we were able to address our immediate needs, but also ensure future success in the development of our football program football program that starts with our many high school additions.
"So many people were instrumental in assembling this class, and it starts with our coaching staff, administration, faculty, recruiting department, current players, community and local businesses. I talked all year long about how we have specific criteria and a profile in which we were going to recruit. We had very little drama today, and I think that is a direct correlation to the relationships that have been forged for over a year. "
Not only is the 2022 class ranked No. 1 in the Sun Belt, it was also listed among the top two teams in the Group of Five and the highest in school history by Rivals.com (No. 48) as of Wednesday early evening. Ten high school players who are part of the class competed in the state playoffs in 2021, including two who won state titles.
A lot goes into assembling the class, but the biggest thing we were looking for is competitive character," said Jones. "We wanted to recruit individuals who love to compete in everything they do – in the community, in the class room, on the field and in the strength and conditioning arena.
"The accomplishments of this class – the state championships, semifinals, state playoffs, winning conference championships and their leadership capabilities – those were all very important to us and extremely critical in our evaluation process."
Out of the players signing with the Red Wolves today, at the time they were coming out of high school, nine were consensus 3-star prospects by 247Sports, Rivals and ESPN. Additionally, one was a four-star prospect and another four were 3-star per at least one of the recruiting web sites.
The class is made up of five players from the state of Tennessee, two from Arkansas, Florida and Louisiana and one from Alabama, Georgia, Illinois, Iowa, Maryland, Missouri and Texas.
The largest number of signees on both sides of the ball are expected to play in the trenches, including three offensive lineman, three interior defensive lineman and two defensive ends. The Red Wolves also added four combined players currently listed as either cornerback, safety or defensive back. The remaining offensive players include one quarterback, running back, wide receiver and tight end.
2022 ARKANSAS STATE RECRUITING CLASS
1. Saidou Ba: 6-6, 285, Fr., OL, Memphis, Tenn. (PURE Academy)*
2. Keyron Crawford: 6-5, 240, Fr., DE, Memphis, Tenn. (Briarcrest Christian School)
3. Ja'Quez Cross: 5-11, 185, Fr.-R, ATH, Hampton, Ark. (Purdue)
4. Jaxon Dailey: 6-3, 215, Fr., QB, Pleasant Hill, Iowa (Southeast Polk HS)*
5. Websley Etienne: 6-0, 185 , Fr., S, Fort Lauderdale, Fla. (Western HS)
6. Daverrick Jenkins: 6-2, 175, Fr., WR, Miami, Fla. (Northwestern HS)
7. Kadan Lewis: 6-2, 260, Fr., DL, Houma, La. (Terrebonne HS)
8. Javante Mackey: 6-3, 215, Fr. LB, Memphis, Tenn. (Whitehaven HS)
9. Miller McCrumby: 6-4, 205, Fr., TE, Mount Pleasant, Texas (Mount Pleasant HS)*
10. James Reed III: 5-11, 180, Fr., CB, Nashville, Tenn. (Father Ryan HS)
11. Ahmad Robinson: 5-11, 180, Fr., CB, East St. Louis, Ill. (East St. Louis HS)*
12. Ashtin Rustemeyer: 6-2, 270, Fr., DL, St. Louis, Mo. (Lutheran HS)
13. Mike Sharpe II: 5-11, 190, Fr., RB, Pinson, Ala. (Pinson Valley HS)*
14. Eddie Smith: 6-0, 190, Jr.-R, DB, Slidell, La. (Illinois/Alabama)*
15. Terion Sugick: 6-2, 297, Fr.-R, DL, Landover, Md. (Vanderbilt)*
16. Blayne Toll: 6-6, 245, DE, So., Hazen, Ark. (Colorado/Arkansas)
17. Aleric Watson: 6-6, 265, Fr., OL, Murfreesboro, Tenn. (Middle Tennessee Christian School)
18. Elijah Zollicoffer: 6-6, 330, Fr., OL, Covington, Ga. (Newton HS)
*Midyear signee eligible to participate in A-State's 2022 spring camp
A CLOSER LOOK
HIGH SCHOOL: 14
FBS TRANSFER: 4
BY POSITION
ATH (1): Ja'Quez Cross
OFFENSE (7)
QB (1): Jaxon Dailey
RB (1): Mike Sharpe II
WR (1): Daverrick Jenkins
TE (1): Miller McCrumby
OL (3): Saidou Ba, Aleric Watson, Elijah Zolicoffer
DEFENSE (10)
DL (3): Kadan Lewis, Ashtin Rustemeyer, Terion Sugick
DE (2): Keyron Crawford, Blayne Toll
LB (1): Javante Mackey
CB (2): James Reed III, Ahmad Robinson
S (1): Websley Etienne
DB (1): Eddie Smith
BY STATE (11)
Tennessee (5) Saidou Ba, Keyron Crawford, Javante Mackey, James Reed III, Aleric Watson
Arkansas (2): Ja'Quez Cross, Blayne Toll
Florida (2): Websley Etienne, Daverrick Jenkins
Louisiana (2): Kadan Lewis, Eddie Smith
Alabama (1): Mike Sharpe II
Georgia (1): Elijah Zollicoffer
Illinois (1): Ahmad Robinson
Iowa (1): Jaxon Dailey
Maryland (1): Terion Sugick
Missouri (1): Ashtin Rustemeyer
Texas (1): Miller McCrumby