{{ timeAgo('2020-09-28 17:10:12 -0500') }}
football
Edit
Arkansas State's Blake Anderson reveals he tested positive for COVID-19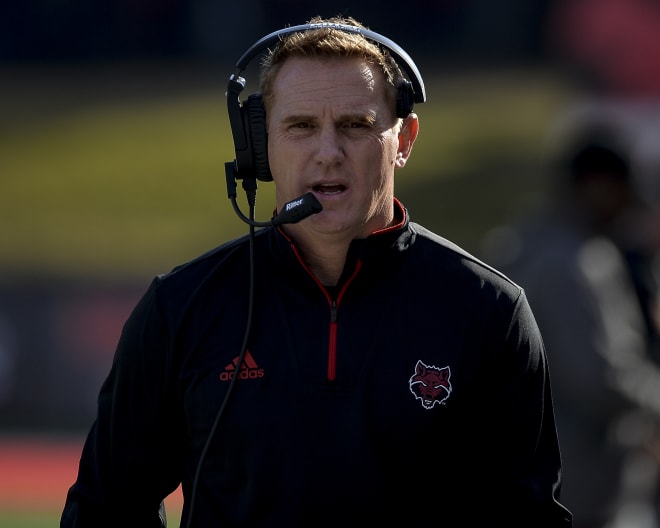 Arkansas State head football coach Blake Anderson announced Monday that he has recovered from a positive COVID-19 test following the win over Kansas State on September 12.
"We've dealt with positive cases in the past, but this is really the first time we have dealt with a lot of guys that have actually felt sick, including myself," said Anderson. "I'll be honest with you. I tested positive and I ran fever for 10 days. I know that is going to take a lot of people by surprise. I didn't announce it like Mike Norvell did. At the time there were a lot of other things going on and we knew we weren't going to be playing, so I knew I wasn't going to miss a game."
Anderson stated that more players have been symptomatic, which has led to both the UCA and the Tulsa games to be postponed to later dates.
"We had more guys symptomatic at this particular time than we have at any point during this whole ordeal, and it was obvious they were not going to have time to get acclimated back to the field," said Anderson. "So we went from kind of thinking ahead of who was going to be available on paper to realizing as we interviewed each person every day – which we did thoroughly – they were just not going to be ready. We are not putting them out there. We are not putting people on the field."
"It affected one position significantly that didn't allow us to play UCA," Anderson continued. "It affected a different position significantly for the Tulsa game, and it was within a 24-hour period that you realize it isn't going to happen. You're optimistic on the front end then reality sits in that these guys are not getting better as quickly as they would like or we would like and we are calling it. We are just not putting them out there even though I think some of them would have tried to have played. It just would not have been safe."
Anderson said he began feeling sick right after the Kansas State game.
"I actually got sick, honestly, coming straight out of the Kansas State game," said Anderson. "I got sick just within a couple of days and started having symptoms, then physically tested positive on Wednesday (September 16), but was sick within a couple of days. As it turned out I would not have been able to coach that weekend."
While Anderson was sick and had a positive test he states that was not the reason the UCA game was postponed.
"That had zero bearing on us postponing the game to be honest with you," said Anderson. "It was strictly available bodies to play safely. It had nothing to do with me testing positive"
The Red Wolves are expected to return to the field Saturday at Coastal Carolina to open up the 2020 Sun Belt Conference football season.
TRY REDWOLFREPORT.COM FREE FOR 60 DAYS - CLICK HERE!
SPECIAL SUBSCRIPTION OFFER FOR FIRST RESPONDERS - CLICK HERE!